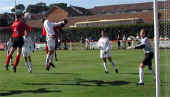 D Wemyss heads in Tayports Goal


Steven Stewart
corner touched over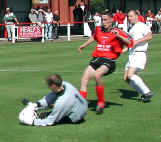 Kevin Heenan Challenge.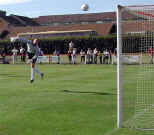 Barry McNaughton shot skims the bar
Both teams went into this match looking for their first Super League points of the season. Tayport were without 5 first team players Scott Peters, Allan Ramsey, Ben Honeyman, Ralph Hunter and David Evans who (recently signed for Raith Rovers) The opening 20 mins was pretty quiet with both teams testing each other in midfield. Brian Craik ran across the peanlty area to crack in a shot which had the Haws keeper diving to his left. Port had the better of the few chances created in the final 25 minutes of the first period. An inswinging Steven Stewart corner was touched onto the bar by the Haws keeper on the 45th minute mark. The second period started with Port showing much improved commitment. A Steven Stewart 20 yard effort went close over the crossbar. Port continued to press the Haws goal and the breakthrough came in the 58th minute when Gareth Dailly crossed from the right to find the rising head of Derek Wemyss who held of the defenders challenge to hit home a powerfull header. Tayport's goal wakened up the Haws. With the home team now having their share of the attack this game could go either way. A Haws free kick 22 yards out was struck straight into the Ports wall of defenders. Port replied with some good efforts from both wings sending in some searching crosses. 82nd minute and Haws had their 2nd free kick in a similar position to the first. This time the free kick was struck superbly to the right of the wall and bending towards the top right hand corner of the Port goal. Port keeper Fitzpatrick spotted the danger and was fully stretched to his left but the power of the shot left him struggling to get a touch. Tayport replied quickly with a McNaughton shot skimming the crossbar from 25 yards. Both teams were going flat out for the winner with Haws having the best of the final exchanges but finding keeper Fitzpatrik denying them the winner in the final seconds. Having finished first and second last season both teams have dropped 5 points in their opening matches. Looking at the league table with only two sets of matches played it has the makings of a very exciting season ahead.
Tayport = Fitzpatrick, ,Gunnion, Paterson, Ward, Wemyss, Morris , McNaughton,, Stewart,, Heenan (Elliot), Craik, Dailly.
Bahtgate maintained their unbeaten record with a 1-0 win over Lochee United, a Jamie Doaln goal secured the points. Linlithgow were beaten at home 0-2 by Oakley United - goal scores Jimmy Lister & Scott Ross. Boness United gave Bonnyrigg a roasting with a 5-1 home win. David Muirhead grabbed a double with Graham Donald, Gordon Abbot & Martin Mooney also on target. Bonnyrigg lone goal scorer was Shaun Grady. Robert Williamson was sent off.