October Jackpot Winner
Jackpot Prize Winner £ 3400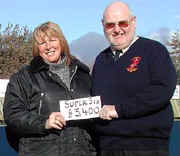 Tayport FC Treasurer Richard McNicoll presents the latest Super Six
Lottery prize to Morag Wemyss. Morag, mother of Tayport FC
defender Derek, was accepting the £3,400 prize on
behalf of daughter Suzanne. Suzanne, who has recently had her house part
double glazed, is using her winnings to have the remaining windows
double glazed.